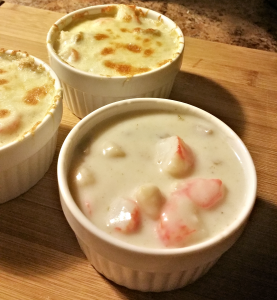 A classic French dish made with scallops, prepared with creamy white sauce and traditionally served in a scallop shell.  This recipe features scallops, crab meat, sautéed mushrooms.  The entire dish is baked with a mozzarella cheese until it comes out golden brown.
Ingredients
8 oz (225 g) of scallops
8 oz (225 g) of crab meat
10 fluid oz (285 ml) can of sliced mushrooms
5 tablespoons (75 ml) of butter (divided)
4 tablespoons (60 ml) of flour
2 cups (470 ml) of milk
⅓ cup (80 ml) of chopped onions
2 to 6 cloves of garlic (approx. 9 g) crushed
½ teaspoon (2.5 ml) of pepper (divided)
¼ teaspoon (1.25 ml) of salt
¼ teaspoon (1.25 ml) of cumin
3 oz (90 g) of shredded mozzarella cheese
Preparation
Pre-heat oven to 375°F (190°C).
Melt 1 tablespoon (15 ml) of butter in a pan on medium heat.  Add scallops, salt, pepper and garlic then sauté until meat is white and tender.  When cooked, drain and set aside.
Melt 2 tablespoons (30 ml) of butter in a pan on medium heat.  Add mushrooms and cumin then sauté until mushrooms begin to brown.  Add onions and continue to sauté until mushrooms are golden brown.  When done, drain then set aside.
Melt 2 tablespoons (30 ml) in a saucepan on medium heat.  Pull from heat source, mix in flour.  Pour in cold milk and mix.
Replace on heat source then stir constantly until the sauce is nice and thick.  This process will take approximately 8 – 10 minutes.
Add in the scallops, mushrooms and crab meat.
Pour into individual stoneware dishes (one for each portion) then cover in shredded mozzarella.  Place in the oven until the surface begins to brown (approximately 5 – 10 minutes).  Comes out ready to serve.
Makes approximately six ¾ cup (180 ml) portions.

Coquilles Saint-Jacques by Evelyn Chartres is licensed under a Creative Commons Attribution-ShareAlike 4.0 International License.