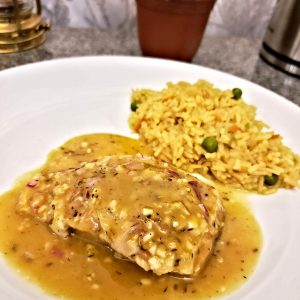 In la Belle Province, maple syrup is a major industry and a frequent contributor to breakfasts in my family. Over time, this ingredient has migrated for use other meals, and this recipe is a prime example.
This recipe is a delightful combination of Dijon mustard, maple syrup, sweet onions and garlic. Once baked, it creates a heavenly fusion of flavour. Sweet and tangy, every bite is different from the last. Love it!
This recipe feeds 2 people.
Ingredients
8 ounces (225 g) of salmon fillet(s)
½ teaspoon (2.5 ml) of butter
⅓ cup (80 ml) of Dijon mustard
⅓ cup (80-100 ml) of maple syrup
2 cloves (5-10 g) of finely chopped garlic
1 tablespoon (15 mg) of finely chopped sweet onion
¼ teaspoon (1.25 ml) of dill seeds
Salt and Pepper to taste
Preparation
Preheat oven to 350°F (180°C).
Filet fish into a ¼ inch (0.6 cm) thick slices then pat dry.
Butter both sides of the filet then site aside.
In a bowl, mix mustard and maple syrup until you have a consistent finish. Taste to confirm that you have the right balance of sweet and tangy. Generally, you can adjust by adding more maple syrup.
(Optional) Tear some aluminum foil wrap to fit individual pieces, then place in a bowl or plate to create a cavity. This allows to cook on the grill, and keeps individual portions warm until it's ready to serve.
In a baking dish pour ½ sauce to create a base, then top with fillets.
Pour remaining of sauce onto the fillets, then sprinkle: garlic, onion, salt, pepper, and dill seed.
Place in oven about 15 minutes or until the salmon is a consistent colour and flakey.
Remove from oven then meal is ready-to-serve.

Dijon and Maple Salmon by Evelyn Chartres is licensed under a Creative Commons Attribution-ShareAlike 4.0 International License.