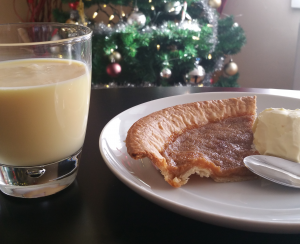 Sugar cream pie
is a single-crust pie filled with a homogeneous mixture similar to caramel.  Other names that are common to this desert are
Sugar Cream Pie
and
Butter Tarts
.  This dessert is delicious when served with vanilla ice cream or whipped cream.
Ingredients
1½  cups (350 ml) of brown sugar
2 teaspoons (10 ml) of all-purpose flour
1 cup (230 ml) of milk
1 tablespoon (15 ml) of butter
1 large egg
2 x 8 inch (20 cm) pie crusts
Preparation
Pre-heat oven to 400°F (205°C).
In a pot mix brown sugar, flour, milk and butter.
Heat on medium until mixture begins to boil then reduce heat.  Cook for an additional five minutes while stirring.
Once time has elapsed, remove and let cool for 10 to 15 minutes.
Lightly whip the egg then mix with the cooled brown sugar mixture.
Divide then pour mixture into pie crusts.
Place in the oven for 15 to 25 minutes or until the crust is lightly browned and mixture is bubbling.

French Canadian Sugar Cream Pie by Evelyn Chartres is licensed under a Creative Commons Attribution-ShareAlike 4.0 International License.