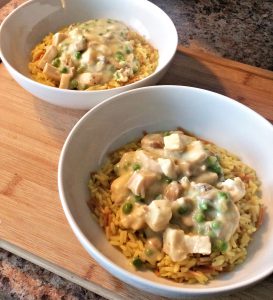 There are a myriad of variations on this recipe.  Also known as
Chicken à la King
this recipe sometimes sports sherry, peppers and a mix of vegetables.  This is one of my go-to recipes, since I can cobble it  together in under 45 minutes.
While this meal is traditionally served on toasted garlic bread, I often serve it atop some rice as shown.
Ingredients
1 pound (450 g) of boneless chicken breast
⅓ cup (80 ml) of butter
10 fluid ounces (285 ml) of sliced mushrooms
½ teaspoon (2.5 ml) of cumin
¼ cup (60 ml) of flour
½ teaspoon (2.5 ml) of salt
⅛ teaspoon (0.625 ml) of pepper
14 fluid ounces (435 ml) of chicken broth
½ cup (120 ml) of cream
1 cup (235 ml) of peas
Preparation
Cook chicken according to taste, I use and outdoor grill and sprinkle with a light seasoning like Mrs Dash.  When cooked, cut chicken into approximately ½ inch (1.25 cm) cubes.
Melt butter in a large saucepan (1.4 quarts or 1.3 litres) over medium heat.
Add mushrooms and cumin then sauté until browned.
Stir in flour, salt and pepper.
Add in chicken broth and cream then stir constantly until sauce thickens.
Add chicken and peas, heat throughout.
Ready to serve on rice or toasted garlic bread.

French Chicken with Mushrooms by Evelyn Chartres is licensed under a Creative Commons Attribution-ShareAlike 4.0 International License.