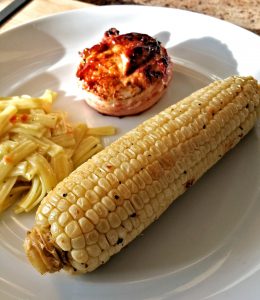 This is one of my favourite side dishes that uses an
outdoor grill
.  I individually wrap the corn, so they stay warm while guests eat their meals, so this recipe shows how to prepare one.  For more, just repeat this recipe for each ear of corn.
While they can cooked together, I find they will not keep warm as long once they are removed from the foil wrap.
Ingredients
1 ear of corn (also known as maize)
1 tablespoon (15 ml) of butter
¼ teaspoon (1.25 ml) of salt
¼ teaspoon (1.25 ml) of pepper
1 sheet of aluminium foil approximately 12 x 12 inches (30 x 30 cm)
Preparation
Shuck then rinse the corn.
Cut off a sheet of tin foil, should be big enough the completely envelop the ear of corn.
Place corn over aluminium foil for the following steps.
Using a fork apply butter directly on the cob, spreading over its entire surface.
Sprinkle salt and pepper over the corn.  Otherwise substitute salt with an alternative like Mrs. Dash.
Wrap the corn in aluminium foil.  To avoid leaks, be sure to twist the ends prior to folding in.  Otherwise there is risk flare-ups on an outdoor grill.
Place on a grill set to high-flame for 2-3 minutes.
Set flame to low then rotate corn ever 2-3 minutes for about 18 minutes.  When ready the corn will audibly sizzle even when removed from grill.
Keep wrapped to stay warm.  To serve, unwrap and enjoy!

Grilled Corn on the Cob by Evelyn Chartres is licensed under a Creative Commons Attribution-ShareAlike 4.0 International License.