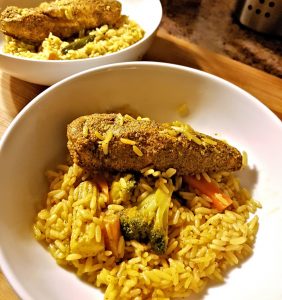 A straight-forward ready-to-serve recipe.  Made with chicken breast, long-grain rice, vegetable medley and spices this meal offers it all.
Guests often opt to eat this meal with a bit of Ranch dressing to complement the spiced chicken and rice.
Ingredients
1 teaspoon (5 ml) of salt
1 teaspoon (5 ml) of cumin
1 teaspoon (5 ml) of black pepper
½ teaspoon (2.5 ml) of cinnamon
½ teaspoon (2.5 ml) of turmeric
1 teaspoon (5 ml) of curry
1 pound (450 g) of boneless, skinless chicken breast (halved)
1½ cups (355 ml) of frozen mixed vegetables*
2 garlic cloves (3 to 5 mg) pressed
6 ounces (180 ml) of long grain rice
2 cups of (470 ml) of chicken broth
¼ cup (60 ml) of sliced almonds (roasted)
Preparation
Combine first five ingredients in a small bowl.
Halve and pat dry chicken. Rub combined ingredients on both sides of the chicken.  Refrigerate for 30 minutes.
Pre-heat oven to 350°F (175°C).
Oil a large skillet and over medium-heat add chicken.  Cook each side until browned. Remove chicken from heat.
Place mixed vegetables on the skillet for 2 to 3 minutes.  Add garlic and rice to the skillet and cook for 5 minutes while stirring frequently.
Place curry then broth into skillet.  Bring to a boil, if broth does not already boiling.
Place in a large baking dish, even out the rice and vegetables.  Add in chicken, cover in aluminium foil then place in the oven for 35 minutes.
Remove from oven, remove aluminium foil, make sure that the meat is no longer pink at the center.
Optionally top the dish with roasted sliced almonds.
Can be served with a side dish of Ranch dressing to complement the chicken and rice.
* I like to use President's Choice Bangkok-Style Vegetables.  This is a vegetable medley of broccoli florets, julienne carrots, whole green beans, cut baby corn, red bell pepper strips, onion, sliced mushrooms and sugar snap peas.

Indian-Spiced Chicken with Rice and Vegetables by Evelyn Chartres is licensed under a Creative Commons Attribution-ShareAlike 4.0 International License.