I had no trouble dropping into this world and enjoying the ride.
I found another wonderful 🌟🌟🌟🌟 review of The Van Helsing Paradox on Amazon.com! It's simple, and to the point. Elegance in itself!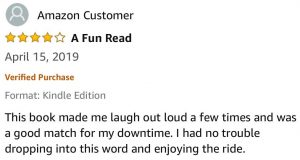 In the mood for dark fantasy story about a girl who grows up to hunt things that go bump in the night? Learn why a gal has to look out for herself after all. So why not check out The Van Helsing Paradox for free? Get it now!