"A vision from the past becomes a writer's deadly obsession."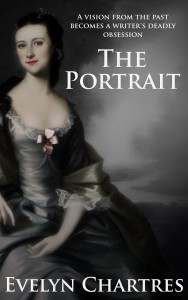 The Portrait of a Woman was released over a year ago through Kindle Direct Publishing.  The novel never did gain much traction, so I decided it was time to breathe some life into it.
Enter The Portrait, featuring a shorter title, a fresh cover and minor changes to the storyline.  I had someone review the novel to touch-up the formatting and grammar here and there.  Overall this release is superior to the original release.
This time I used Smashwords, which also distributes through popular sites like Barnes and Noble, iBooks, iBooks, Kobo and Scribd.  Additionally, this book is available at no cost, since I feel that it's more important to get this story out there!
While you can get it from Amazon, the book is not available for free. Please tell them about a lower price so Kindle users can get the book free of charge from Amazon directly!
The Portrait's Synopsis
The Portrait is a Gothic horror about Victoria Frost, an author who develops an unhealthy obsession for her character. As events unfold, her obsession begins to turn on her and leads the author to question her sanity. Is this simply her slipping deeper into madness or are there other factors in play?
The Portrait is a mixture of contemporary and historical scenes with the latter revolving around her muse.  In this novel, the author will revisit an iconic scene using both prose and art yielding new pieces to the puzzle with every pass.