A friend passed on this Writers Digest article about 6 Hard Truths Every Writer Should Accept and mentioned there should be a seventh.  For them —you're not half as awesome as you think you are— is a lesson all authors need to know.

The list of truths is as follows:
It won't be your first novel.
First drafts always suck.
Your husband, mother, sister, best friend, co-worker or the neighbour who is a high school English teacher does not qualify as a critique partner.
Your journey will not be the same journey as your peers.
Being good isn't good enough.
Pay your dues.
Personally, I do not agree with a couple of the points made.
Pay your dues
In all industries there are people that are so well connected or at the right place and time that success is immediate. For some people, easy is the only path they follow since they have never tasted hard.
Sure there are always challenges, since those are inevitable in life.  However, one cannot help but wonder if some people are playing the game of life on easy, while others are on nightmare mode.
Now should we plan on such an outcome?  Hell no!  But it's not a universal truth.
Your husband, mother, sister, best friend, co-worker or the neighbour who is a high school English teacher does not qualify as a critique partner.
I disagree with using people to critique who are not writers.  We all have a voice and it may click well readers (those who buy) and not other authors.  Another author may be experienced in writing a novel, but not work for what you have in mind.  Again these are not universal truths.
A good example of this I found while reading a National Post article titled Why America's greatest humorist was Mark Twain in public and Samuel Clemens in private.  A quote from the article makes my point:
He (Twain) thought little of George Eliot or Henry James, two novelists still considered first-class, but he often praised the books of his friend William Dean Howells, who is now nearly forgotten.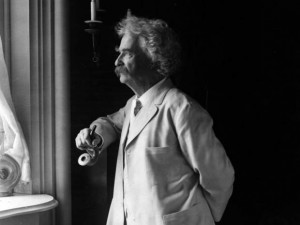 Mark Twain
was an icon who had tapped into the nerve of the literary public and yet denounced authors who made it.  It could have been personal, it could have been style, but his praise or scorn did not determine their place in history.
My friend commented that there are folks out there who are well schooled in certain genres and are willing to beta-read.  It could be just a matter of it being a hobby or even their passion.  Getting another writer you are chummy with is also asking for trouble, since its like asking a friend to say —tell me I'm brilliant.— That may not be your intention, but that's how they will probably take it.
You're Not Half as Awesome as You Think You Are
Likely one of the most poignant truths any author can discover.  However, this particular author may have assumed that such revelations need to be made by the author.

6 Hard Truths Every Writer Should Accept by Evelyn Chartres is licensed under a Creative Commons Attribution-ShareAlike 4.0 International License.