"I'd like to thank her," Julia said.
"She'd love to hear that," Evelyn replied. "I'll pass on your thanks when she returns."
Thoughts of Grace brought her back to that cell. Her mouth went slack and her breathing slowed. Every aspect of this flashback felt real, the smell, the coarse texture of concrete, and those restraints. When a hand brushed up against her shoulder, Julia reacted violently, and sent a plate crashing to the floor. The sound of shattering stoneware jarred Julia back to reality.
"I'm sorry!" Julia spurted out.
"Sorry!" Evelyn said in the same instance.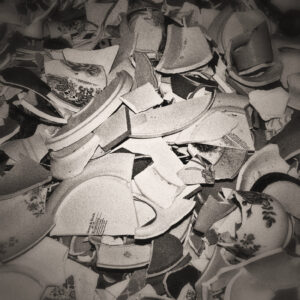 Disclaimer: This excerpt from Dark Hearts is currently in development. There may be typos, errors, omissions, inconsistencies and so forth. The image is sourced from Pixabay.