Sweet Red Onion Jam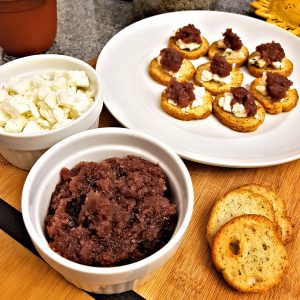 A jam made of sweet onions, wine and blackcurrant liqueur. This recipe makes an excellent hors d'oeuvre when served with strong cheese and something crunchy, or served on a toasted bagel.
I usually serve this as a snack, mixing an aged cheddar, feta, or blue cheese and serving it atop a Grissol or roasted baguettes (pictured).
Ingredients
24 ounces (700 g) of minced red onions (approximately 3 large)
3½ ounces (100 g) of butter
5 ounces (150 g) of sugar
½ teaspoon (2.5 ml) of salt
1 teaspoon (5 ml) of pepper
½ cup (100 ml) of red wine vinegar
3 tablespoons (40 ml) of blackcurrant liqueur or port wine
1 cup (200 ml) of red wine
Preparation
Finely chop the onions. For speed use a food processor or for a smooth texture use a blender to get the desired consistency.
In a deep pan, set the heat on medium and melt butter.
Reduce heat to low. Place onions in a pan, mix and then allow the onions to sweat. Heat should just be below the point where the onions bubble over.
Add salt, pepper and sugar to the pan. Stir until you have a consistent mixture.
Moisten with red wine vinegar and blackcurrant liqueur. Mix thoroughly.
Add in red wine and mix.
Reduce near low heat and reduce the mixture until you have the desired consistency. This step will take several hours, so remember to stir occasionally.
Let cool then place contents in the fridge until ready to serve.

Confitures a l'Oignon by Evelyn Chartres is licensed under a Creative Commons Attribution-ShareAlike 4.0 International License.