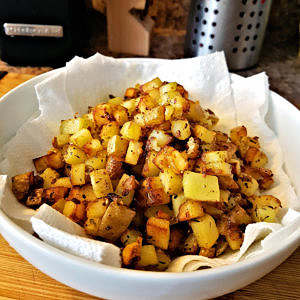 Other than bacon, this is one of my favourite breakfast side dishes. The ingredients are readily available and can be made up with the rest of the breakfast.
A combination of potatoes, onions, garlic butter and herbs. This recipe is sure to be a crowd pleaser.
Ingredients
1 pound (450 g) of potatoes
1/2 cup (120 ml) of finely chopped onions
1 tablespoon (15 ml) of garlic butter
4 to 6 tablespoons (60 to 90 ml) of olive oil
1 teaspoon (5 ml) of Herbes de Provence or Italian seasoning
¼ teaspoon (1.25 ml) of salt
¼ teaspoon (1.25 ml) of pepper
Preparation
Clean potatoes then cut into small ¼ inch (0.6 cm) cubes.
On a skillet on medium heat, melt butter.
Add olive oil and mix.
Add potatoes, onions, salt and pepper to the skillet.
Stir contents on occasion. Add oil as necessary to make sure the contents do not stick.
When the potato edges are a golden brown, remove from the skillet.
Place in a bowl, use a paper towel to absorb any remaining oil.
Ready-to-serve.

Crunchy and Chewy Country Fried Potatoes by Evelyn Chartres is licensed under a Creative Commons Attribution-ShareAlike 4.0 International License.