I came across a 3🌟 review for The Portrait from Goodreads Librarian Dua, a story that is near and dear to her heart. It's honest, and at times even brutally so, mentioning aspects of that story that I've been concerned about for some time now. However, it goes a long way to show the progress I've made since then.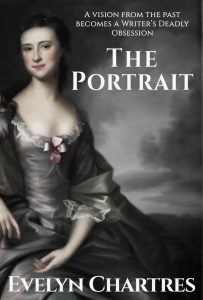 Authors need to start somewhere, and it's often tempting to go back to out previous works and rewrite. After all, this is the story about Evelyn Chartres, a character that is near and dear to my heart. Dua even mentions Evelyn specifically in her review.
Oh and Evelyn… I loved Evelyn.
Still, if I continually went back to my earlier works, chances are that The Grand, The Van Helsing Paradox and its upcoming sequels would be nothing more than conceptual. So I choose to take these types of reviews to heart, and hope these concerns have been addressed in future releases.
This book also differs greatly from the others, since it delves into the mind of an author Victoria Frost, who takes up writing after the death of her parents. The character set it limited, as is the dialogue, since most of the story takes place inside her head. That aspect goes a long way to explain the stream of questions in the book, since it denotes her chaotic thought patterns.
She did appreciate how I weaved art into the prose, since this book focuses on the author's vision of a particular painting hanging in some nondescript gallery. Of note, art is also core to Evelyn's own identity.
The art, in its many forms, is an important part of the book, almost like a character on its own, and I loved how it was woven throughout the story.
So thank you Dua for your honest review! I hope that you will delve into my later works, and discover how I evolved as a writer.