Abalone is a psychological drama written by independent author J.G. MacLeod. This novel focuses on a young woman, named Liz, whose life takes a dramatic turn during her senior year of high school.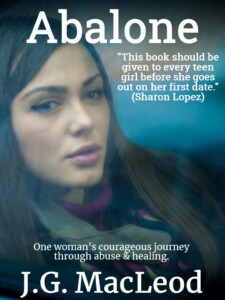 If you've read the blurb, you have a good idea on what direction this story takes. MacLeod starts off nearer to the middle of the story, when the character chooses life over death and makes the conscious choice to write out how her life fell off the rails.
The end effect of this choice forces the reader to realise how deep the rabbit hole goes before the character begins her journey. I likened it to witnessing a slow motion train wreck. As the domestic violence escalates, it forced me to accept that Liz's situation would get much worse.
Abalone is an intense read that brings the horror of domestic violence into the light. You will fall for Liz and hope beyond all hope that she finds a silver lining by the end.