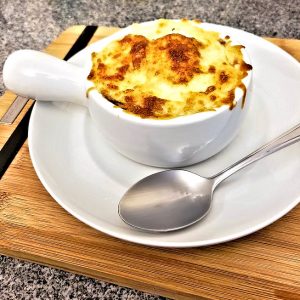 French onion soup is known for its ooey-gooey goodness. With its simple ingredients and straightforward recipe, this dish is sure to be a crowd pleaser! This recipe makes enough soup for six bowls and it keeps well, so it works as a leftover.
Ingredients
Soup
2½ pounds of (1130 g) of sweet onions
3 tablespoons (45 ml) of butter
4 cloves (10-20 g) of pressed garlic
1 teaspoon (5 ml) of thyme or 2 bay leaves
2 tablespoons (30 ml) of flour
1 quart (900 ml) of beef broth
½ cup (120 ml) of dry white wine
1 tablespoon (15 ml) of Balsamic vinegar
1 tablespoon (15 ml) of brown sugar
Bread Layer
1 baguette of French bread
Garlic butter
Cheese Mix (Per serving)
¾ ounce (20 g) of shredded Swiss cheese
¾ ounce (20 g) of shredded mozzarella cheese
3/16 ounce (5 mg) of shredded Parmesan cheese
Preparation
Soup
Cut the onions in half lengthwise, then slice. Set aside.
In a large pot, melt butter over medium heat.
Add onions and garlic. Let the onions sweat until they are translucent and soft.
Add thyme (or bay leaves), then sprinkle softened onions with flour. Mix until you have an even coat.
Pour in beef broth, wine, balsamic vinegar, and brown sugar. Stir occasionally, bring to a boil then reduce heat to simmer.
Simmer for about an hour.
Taste the soup. It is done when onions are very tender, and the broth has a balance of sweet and savoury. Add more brown sugar or balsamic vinegar to balance if needed.
Bread Layer
Cut ¼ inch (0.6 cm) slices of baguettes. Enough to cover the surface of your French Onion soup bowls (varies on size).
Spread with garlic butter.
Broil in the oven or use a toaster oven to toast the slices. Ready once you have a golden brown finish. Set aside.
Cheese Mix (Per serving)
Mix swiss, mozzarella, and parmesan cheese. Set aside.
To Bake
Preheat oven to 350°F (175°C)
Oil bowls or coat with a non-stick spray. Fill bowls with soup. Leave about ¼ inch (0.6 cm) of space from the top.
Layer in bread, try to avoid leaving gaps.
Cover with cheese mix.
Place in the oven on broil for 10 minutes. Ready when the cheese layer is bubbly with golden brown accents. If you are reheating the soup, bake in the oven for 20 minutes.
Remove from the oven, then serve on a plate.

French Onion Soup by Evelyn Chartres is licensed under a Creative Commons Attribution-ShareAlike 4.0 International License.