Refrigerator Biscuits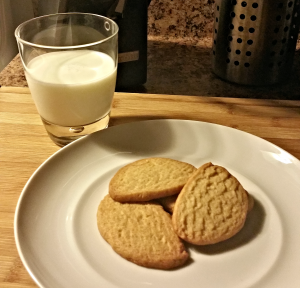 Refrigerator biscuits are made from dough that is refrigerated. The dough is typically shaped into logs which are then sliced into biscuits before baking.
This is a nice and simple treat which can be prepared the night before. Bake fresh when needed. This recipe can be easily doubled without re-adjusting ingredients.
Ingredients
½ cup (180 ml) of butter
½ cup (180 ml) of shortening
½ cup (180 ml) of sugar
½ cup (180 ml) of brown sugar
2 large eggs
½ teaspoon of vanilla
2½ cups (650 ml) of sifted flour
1 teaspoon (5 ml) of baking powder
½ teaspoon (2.5 ml) of baking soda
¼ teaspoon (1.25 ml) of salt
Parchment or wax paper
Preparation
In a bowl mix butter, shortening, sugar, brown sugar, egg, and vanilla.
Add flour, baking powder, baking soda and salt then mix.
Pull out a sheet of wax paper about the length of your ranges width. Lay down the dough onto the paper, stretching it out then roll it into a log.
Put the log in the refrigerator for at least 4 hours (preferably overnight).
Pre-heat the oven to 350°F (180°C).
Pull dough from the refrigerator, cut up into ¼" (5-6mm) then place on an oiled baking sheet.
Bake for 10 to 15 minutes or until golden brown.
Let cool and ready to eat!

Galettes au Frigidaire by Evelyn Chartres is licensed under a Creative Commons Attribution-ShareAlike 4.0 International License.