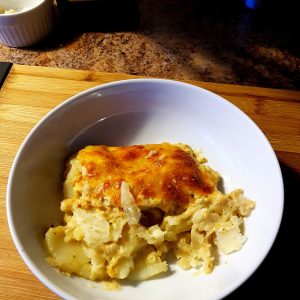 Here is my recipe for scalloped potatoes. My take on this recipe adds garlic, Parmesan, and cheddar cheese to the recipe to infuse it with a distinctive flavour. This recipe is enough for four servings and can be easily scaled up to feed more.
Ingredients
1 pound (450 g) of potatoes
½ cup (120 ml) of finely chopped onions
1 tablespoon (15 ml) of butter
2 cloves (5-10 g) of pressed garlic
1 tablespoon (15 ml) of flour
1 tablespoon (15 ml) of grated Parmesan cheese
1 can (355 ml) of evaporated milk
Salt
Pepper
½ cup (120 ml) of shredded cheddar cheese
Instructions
Pre-heat the oven to 325°F (160°C).
Peel and then cut potatoes into thin slices.
In a greased stoneware pot, layer sliced potatoes. Leave some gaps and sprinkle a part of the chopped onions over the layer.
In a small saucepan over medium heat melt butter. Add garlic and sauté for 1 to 2 minutes.
Add flour and whisk until you have a consistent finish. Pour in evaporated milk while stirring constantly. Add parmesan cheese, and the sauce will remain on heat until the cheese is melted.
Add salt and pepper to taste.
Remove from heat and pour into the stoneware pot. Top with shredded cheese.
Bake for 60 minutes while covered. Remove the lid and bake for another 20 to 30 minutes until the top is a golden brown.
Remove from heat and let sit for 10 minutes before serving.

Garlic and Parmesan Scalloped Potatoes by Evelyn Chartres is licensed under a Creative Commons Attribution-ShareAlike 4.0 International License.