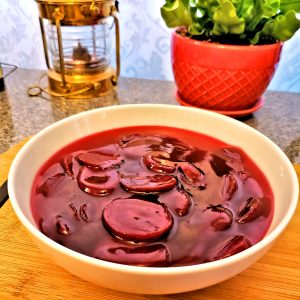 Beets were a frequent side-dish at family gatherings. Their distinctive red colouring and juice made them easy to spot. This recipe adds sugar, vinegar, and cornstarch to transform this side into something akin to a dessert.
If you were on the fence between loving and hating beets, this recipe may very well have you embracing this treat!

Ingredients
⅓ cup (80 ml) of water
2 tablespoons (30 ml) of cornstarch
14 fluid ounces (400 ml) of canned beets (drained)
½ cup (120 ml) of white vinegar
1 cup (235 ml) of white sugar
Preparation
In a small bowl mix water and cornstarch. Set aside.
In a medium saucepan on high heat, add vinegar and sugar. Bring to a simmer. Stir frequently until sugar dissolves.
Set heat to medium Add beets. Heat for approximately 5 to 10 minutes to allow for the beets to warm throughout. Stir occasionally.
Add cornstarch mixture to the beets. Continue to heat, stirring until the sauce thickens.
Remove from heat, beets are ready-to-serve.