Without thought, his right index finger transformed. The fingernail grew longer, darkened and hardened until it was a talon. He pressed it against the polymer, slicing through the material until the metal was exposed.
The work would be tedious and time consuming, but he wanted to leave a physical record behind. If anything it would help him remember who he had once been if the beast within took control. It's fortunate there are plenty of blood bags left at the station's hospital.
After the first letter was carved into the wall, Marc smiled. His cheeks creaked as the frost broke off, which was horrifying enough. However his smile was entirely unnatural, like staring into the face of a man teetering on the edge of insanity.
"Her name was Jeanne," Marc said.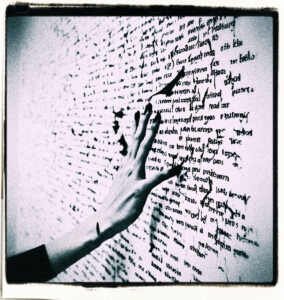 Disclaimer: This excerpt from Man of War is currently in development. There may be typos, errors, omissions, inconsistencies and so forth.