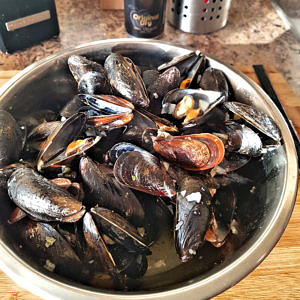 Ingredients
2 pounds of (900 g) of mussels or clams
6 tablespoons (90 ml) of butter
¼ cup (60 ml) of finely chopped onions
3 cloves (9-15 g) of pressed garlic
1 teaspoon (5 ml) of herbes de Provence
⅛ teaspoon (0.75 ml) of pepper
½ quart (500 ml) of apple cider or dry white wine
Instructions
Rinse mussels or clams. Brush shells to clear any excess material or grit, make sure the shell has not been broken or compromised. Soak in water until ready.
Using a 4 quart (3.7 l) pot on medium high, add butter and melt.
Add onions and garlic, sauté for 1-3 minutes or when onions are transparent.
Add herbs and pepper to the pot and mix.
Set to high and add apple cider or a dry white wine. Boil for 1-3 minutes to reduce or until alcohol has evaporated.
Drain mussels or clams using a colander, place in a pot and cover with a lid.
Cook for 5 minutes, shake the contents of the pot every so often to ensure even cooking.
Pull from heat. Place colander in a large bowl then strain the mussels.
Place mussels or clams in a bowl. Strain some of the remaining sauce to serve as a side.