Print Layout is ideal for formatting manuscripts for publishing. However, what we see differs from reality. That's where Print Preview comes into play, because it confirms the layout prior to submitting to the printer/publisher.
Details
Print Layout and Print Preview positions the pages differently. The perfect example of this behaviour can be seen from the title page of a manuscript: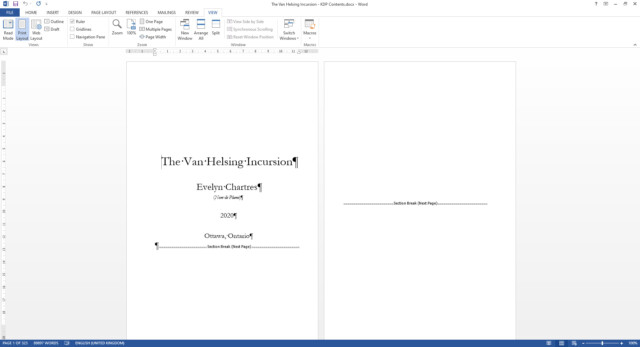 Here is the view through Print Preview: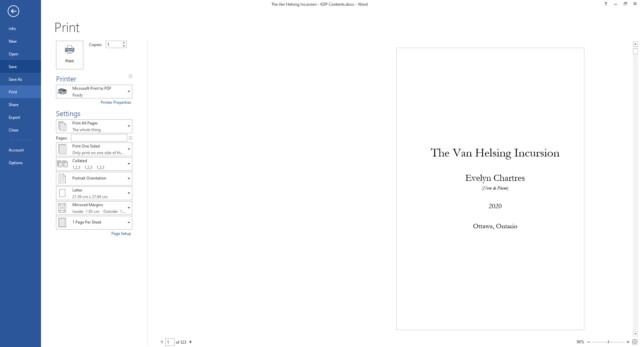 In most cases, Print Preview represents how it will be printed. To bring up Print Preview, from the Ribbon click on File then click on Print to bring up the Print Preview pane.
Which is correct? Fortunately, the Kindle Direct Publishing Previewer agrees with Print Preview.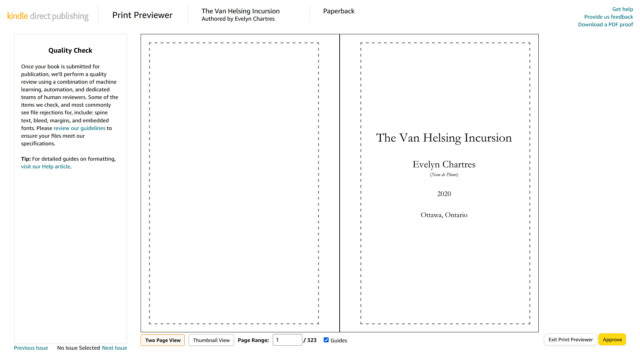 Why is this important? Since Print Layout does not reflect reality, the choices made could lead to:
Pages not being on the desired side;
Blank pages in the manuscript since they are hidden from view; and
Does not show how a section break behaved.
Confirming the formatting through Print Preview reduces the back and forth required to submit a manuscript to the printer/publisher.

Print Layout Versus Print Preview by Evelyn Chartres is licensed under a Creative Commons Attribution-ShareAlike 4.0 International License.