My child tried to pull a fast one on the Tooth Fairy!
Earlier this week my child woke up to discover she lost a tooth overnight.  This tooth had been bothering her for a couple of days, so one would think she was relieved.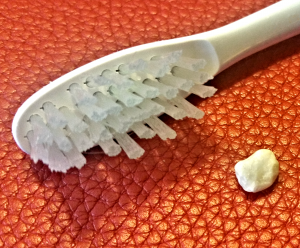 However, that secondary when compared to a visit from the Tooth Fairy.  Since my child was supposed to switch parents after school, I placed the tooth in a plastic baggie so she could keep track of it.
My child then asked to switch nights so the Tooth Fairy could see her room here.   So when I picked her up after school, she was in good spirits and looking forward to her payout.
On the way home she spoke children who lost their teeth while showing them off and could not complete their transactions with the Tooth Fairy.  She described how heart striken they were and how lucky she was.
Since she successfully transitioned from one household to the next without incident before, I paid no need.  She went about her day and let her stay up a bit later so she could brush the tooth.  She seemed insistent that the Tooth Fairy get pristine and shiny booty that night!
Later in the evening, I pulled out the baggie from under her pillow then noticed the bag was different.  This caught my attention, latet my suspicions were confirmed when I switched out the contents.
Upon closer inspection, I discovered that it was a white rock.  Small enough and similar in shape to a tooth to pass muster at a glance.  So yes, my child tried to pull a fast one on the Tooth Fairy!
Curious, I left a note with the money.  The following was inscribed:
Payment of one rock accepted in lieu of tooth.  — Molar Mae
The message was purposefully cryptic she would ask me what the note written in cursive script said.  When I read out what the note, she shrugged her shoulders then acted convincingly confused.
Eventually she came clean on the switch.   Unfortunately for her, I now have a story that can be brought up at family gatherings and whatnot.  To think that my child is an incarnation of Moriarty!
Is blackmail at the tender age of seven lucrative?

Pulling a Fast One on the Tooth Fairy by Evelyn Chartres is licensed under a Creative Commons Attribution-ShareAlike 4.0 International License.