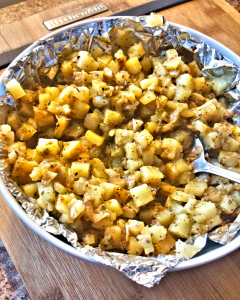 This dish has been one of my go-to side dishes for years. This recipe combines all of the elements of baked potatoes into one. The cooking process will melt the butter over the potatoes, onions and garlic to create this ready to eat dish.
Ingredients
12 ounces (350 g) of potatoes
2½ ounces (75 g) of minced onions
2 cloves (5-10 g) of pressed garlic
3 tablespoons (45 ml) of butter
½ teaspoon (2.5 ml) of salt
¼ teaspoon (1.25 ml) of pepper
¼ teaspoon (1.25 ml) of Italian seasoning
Preparation
Pre-heat the oven to 375°F (190°C).
Prepare two pieces of aluminium foil, approximately 12 x 15 inches (30 x 40 cm) in length.
Scrub, rinse and cut up the potatoes into small cubes then place on the aluminium foil.
Drop onions, garlic, salt, pepper and Italian seasoning atop potatoes.
Top with butter and close up the first layer of aluminium foil. Wrap in a second to prevent any leaks.
Place in the oven and cook for 60 minutes. Alternatively, place on an outdoor grill for the same time.
When done, pull from the oven, mix the contents and it is ready-to-serve.

Ready to Serve Baked Potatoes by Evelyn Chartres is licensed under a Creative Commons Attribution-ShareAlike 4.0 International License.