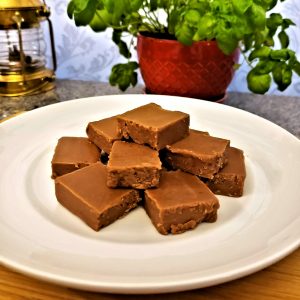 Not all fudge recipes are difficult to make, and this one is straight forward. Features a simple list of ingredients, this recipe fuses milk chocolate and marshmallows. The end effect is a heavenly block of fudge that conjures memories of s'mores made over the fire. Yum!
Ingredients
2 cups (470 ml) of white sugar
¾ cup (180 ml) of 2% evaporated milk
¼ cup (60 ml) of butter
1 cup of (235 ml) of marshmallows
2 cups (470 ml) or 1 package (250 g) of milk chocolate chips
Preparation
Grease a 9" (22 cm) pie tin and set aside.
Add sugar, evaporated milk, butter, and marshmallows to a 3 quart (2.8 L) saucepan.
Heat over low, stirring occasionally, until the sugar and marshmallows melt.
On medium-heat bring to a boil. Boil for 4 minutes while stirring constantly.
Add chocolate, continue to stir until the chocolate is partially melted.
Remove from heat, continue to stir until chocolate is melted completely.
Pour into pie tin and let cool for about an hour.
Refrigerate until fudge is firm, preferably overnight. Cut into pieces and ready to serve!

Simple Fudge by Evelyn Chartres is licensed under a Creative Commons Attribution-ShareAlike 4.0 International License.