Bartender Wanted is a historical mystery written by Maureen Anne Jennings; not to be confused with Maureen Jennings the author of the Murdoch Mysteries which launched a popular Canadian show with the same name. This story takes place in the 1980's New York city, bringing me back to my childhood.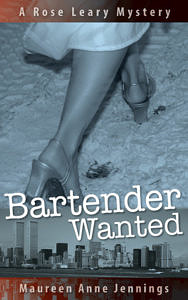 The story itself centres on the staff at My World, a restaurant and bar in Manhattan. Bartender Wanted revolves around Rose Leary, a recently divorced author and former restaurant owner who now tends the bar to make ends meet in between novels. A series of murders ensues and she finds herself in the middle of mystery, bringing her into contact with some of the bar's patrons, employees and the owners.
Overall, I found this novel to be a quick and pleasant read, although I do not see myself picking up any other books from the series. Maureen Anne Jennings is very careful to work within the limited technology of the day, and brings into focus certain sociopolitical elements that the reader may not have been aware of. The author also does an excellent job of speaking for the protagonist and you get a taste of her thoughts and motivations.
However, I found her interactions with some of the characters to be less than believable. The one exception was her interactions with Jimmy, one of the waiters, although that aspect seems to fizzle out towards the end of the book. This novel also left me with few surprises, there were no cliff hangers or mystery in it for me. I was simply left wondering when Rose would figure it out and how all the loose ends would be tied up.
Overall the story failed to captivate me or keep me hooked until the end. This was not an adrenaline pumped roller coaster ride, instead it was more of a pleasant drive through the country. There was plenty of room for one's imagination to grow, but little opportunity to get the pulse racing. A shame really, since the ratings on Goodreads really got me thinking I'd be consuming the whole series!

A Review of Bartender Wanted by Evelyn Chartres is licensed under a Creative Commons Attribution-ShareAlike 4.0 International License.