I noticed a new review on Amazon.com related to my latest release the Grand. The review one star and hints that it should have been lower. While they review is entitled to their opinion, I wonder why they would read a collection of short stories and expect a coherent story line?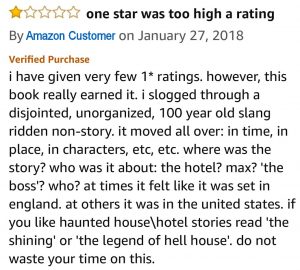 The Amazon.com book description specifically mentions that the Grand is a series of short stories. It also mentions how the century old language and culture is used to give authenticity. So why am I being penalized for providing a product as advertised?
The Grand is not your ordinary hotel, nor are the clientele. Welcome to the twilight zone..
The above quote is also from Amazon.com and saw how the Grand was similar to the Twilight Zone, Goosebumps, and Tales From the Crypt. The core difference is that my story is centered on a Roaring Twenties grand hotel, so I often compare it as Hotel Transylvania meets Tales From the Crypt.
So how do I prevent this type of misunderstanding? Is there a way to make it obvious that the reader should not expect a coherent story line and main cast of characters?