Even Things That Go Bump in the Night Need a Place to Unwind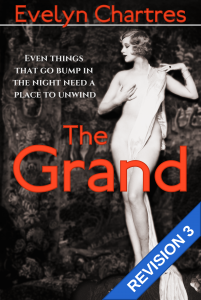 One of the core changes between my review process for the Grand compared with the Portrait was record keeping.  The Portrait's development had taken place over a decade, using various mediums and statistics were honestly an afterthought.
As of this post, my third review of the Grand is complete.  This review marked a 48% drop in overall corrections when compared to the previous revision.  Siamese Dreams had the most substantial drop at 56%. Journey Through the River of Belief stood at the opposite end of the spectrum with a 42% reduction in changes.
Overall there were 2,385 corrections done over the whole of the Grand giving us an average of 139 changes per chapter.  It shows a trend where each review results in less overall changes.  However, some of these changes included the addition of sentences and paragraphs.
Here is a summary of the above:
Overall a 48% drop in modifications when compared to revision two;
2,385 modifications for the entire work;
139 modifications per chapter;
Siamese Dreams had the fewest changes at leading to a 56% decrease;
Journey Through the River of Belief had the smallest reduction in changes at 48%.
I also learned that there is no easy metric from which to work from.  The Grand uses changes per work page (A4), changes per Kindle page and changes per eBook percentage.  None of these match up in any way, if two chapters have similar scores in changes per work page, they will not match up for the other metrics.  I found it odd, but it provides me with an idea on my progress.
Perhaps in my next novel, I will keep track of changes compared to the total word count. Again it will not be the perfect metric to follow, but it will provide some insight!