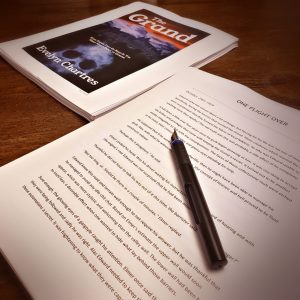 What's this? Is that a freshly printed manuscript of the Grand for copy editing? Yes! After the bulk of the heavy lifting was done with my latest work, I decided to follow some advice and work on remodeling my book.
How? As you might be able to tell from the image, this manuscript features dates accompanying major changes in era. This will hopefully make things easier for people to follow along.
This manuscript also features a heavy rewrite of the chapter which inspired the Van Helsing Paradox. A lot of changes were done in my latest work to clarify dialogue, so I felt these changes needed to be brought back to the source.
Once my copy editor is done with her changes, I will make sure to re-release eBooks and a print version to celebrate. Exciting!
Hmm, I wonder how many refills of red ink she will need?