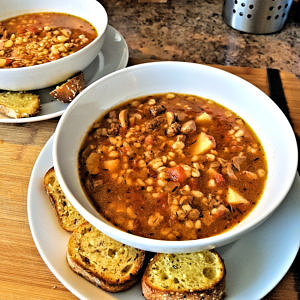 Beef and Barley soup is hearty and can heat the cockles of your heart; especially after a day out in the cold! It also happens to be a great way to make use of leftover steak from last night's barbecue. This recipe can also be served as a main dish and goes well with toasted garlic bread!
Ingredients
24 ounces (680 g) of uncooked beef or 18 ounces (510 g) of cooked beef
10 fluid ounces (285 ml) of canned mushrooms (drained)
2 to 4 tablespoons (30 to 60 ml) of olive oil
½ teaspoon (2.5 ml) of ground cumin
8 ounces (225 g) of parsnips
½ cup (120 ml) of finely chopped onions
2 cloves garlic (5-10 g) pressed
½ teaspoon (2.5 ml) of thyme
½ teaspoon (2.5 ml) of rosemary
22 fluid ounces (640 ml) of diced tomatoes
½ cup (120 ml) of pearl barley
40 fluid ounces (1.2 l) of beef broth
Instructions
Cook beef according to preference; I prefer to grill with seasoning and pepper. Cut into ¼ inch (0.6 cm) cubes then set aside.
Using a 4 quart (3.7 l) pot add oil and heat on medium.
Add mushrooms and cumin. Sauté until they have turned a light brown.
Add garlic, onions, thyme and rosemary to the pot. Sauté until onions are transparent.
Add beef cubes and remaining ingredients. Bring to a boil.
Reduce heat to a simmer, cover and cook for two hours or until parsnips and meat are tender.

Beef and Barley Soup by Evelyn Chartres is licensed under a Creative Commons Attribution-ShareAlike 4.0 International License.