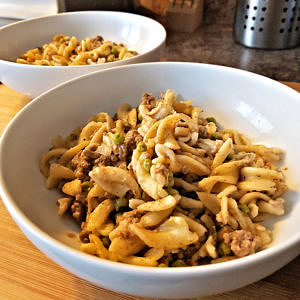 I make sure keep these ingredients readily available to make this recipe. It takes no time at all to pull this meal together which makes a good 6 to 8 portions. While
Beef Stroganoff
is not
French Canadian
in origin, it is nonetheless a family favourite!
Ingredients
12 ounces (340 g) of egg noodles
8 ½ fluid ounces (250 ml) of sour cream
10 fluid ounces (295 ml) of cream of mushroom soup
1 package (40 g) of onion soup mix
1 tablespoon (15 ml) of garlic butter
1 tablespoon (15 ml) of butter
1 pound (450 g) of ground beef
3 ounces (85 g) of onions (optional)
10 ounces (285 g) of snow peas
Preparation
Prepare egg noodles according to package instructions.
In a large bowl, mix cream of mushroom soup, sour cream and onion soup mix.
On medium heat, melt garlic butter and butter in a skillet.
Add ground beef, onions and cook until the meat is no longer pink.
Drain, set heat to low and add contents of bowl.
Stir until contents bubble then add peas.  Heat throughout and ready-to-serve.

Beef Stroganoff by Evelyn Chartres is licensed under a Creative Commons Attribution-ShareAlike 4.0 International License.