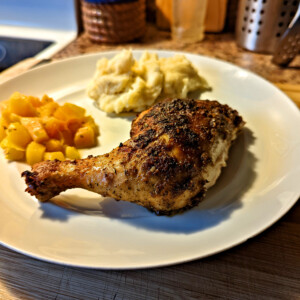 Country roasted chicken uses simple ingredients and gives the dish a sweet-onion flavour. The dry ingredients are ground to ensure a consistent application of the mix.
Additionally, the chicken is spatchcocked, for a consistent cooking temp throughout while reducing the chances of burning. If desired, this chicken could be cooked on the barbecue instead.
Well worth a try!
Ingredients
3½ pound (1.5 kg) whole chicken (thawed)
1 package (30 mg) of onion soup mix
1 teaspoon (5 ml) of garlic powder
2 tablespoons (30 ml) of savoury (divided)
2 tablespoons (30 ml) of honey
1 tablespoon (15 ml) of olive oil
¼ cup (60) of water
Instructions
Pre-heat the oven to 350°F (180°C).
Combine soup mix, garlic powder and half of savoury. Using a mortar and pestle grind the contents to a fine powder.
In a small bowl, add dry ingredients, olive oil, and honey. Mix until you have a consistent finish. Set aside.
Place chicken breast-side down. Using a pair of kitchen scissors, cut out the spinal column and spread the chicken apart. Sprinkle savoury over the cavity and place breast-up onto the grill of a broiling pan.
Spread onion-soup mix over the exposed chicken. Sprinkle on additional savoury if desired. Add water to the bottom of the broiling pan.
Place In oven until internal temperatures reach 165°F (75°C). Baste every 30 minutes to the skin from burning.