It's always nice to have some options! A friend has cleaned up the prototype cover that I made for the Grand. Essentially, she applied her experience and skill to create a more refined cover.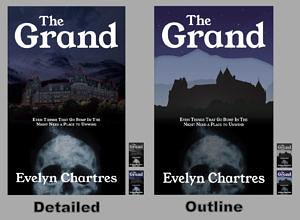 However, she also created an alternate cover. This variant is far simpler and would realistically scale better at different resolutions. Alas, it seems that I am a bit biased, since I made the prototype.
So what do you think? Which is better? Detailed or Outlined? Feel free to post any recommendations on potential changes that could make this cover really pop!