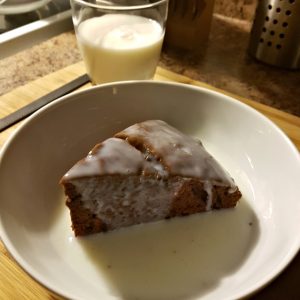 I have fond memories of visiting my grandmother and coming face to face with this cake. This recipe combines a delicious coffee cake with a creamy nutmeg sauce that really complements it!
This dish required a fair amount of deciphering. For example, the original recipe called for 2 eggs of grease for the cake.
The sauce needs a consistent temperature to thicken reliably. If you can get an even flame then this will be no problem. However, for electric ranges I recommend using a cast iron or steel saucepan to compensate for the on-and-off cycle of the heating element.
Ingredients
Coffee Cake
1 cup (235 ml) of sugar
2 large eggs
⅓ cup (80 ml) of shortening
2 cups (470 ml) of sifted all-purpose flour
¼ cup (60 ml) of cocoa powder
1 teaspoon (5 ml) of baking soda
1 teaspoon (5 ml) of baking powder
1 cup (235 ml) of brewed coffee
Creamy Nutmeg Sauce
¼ cup (60 ml) of sugar
1 cup (235 ml) of milk
⅛ teaspoon (0.625 ml) of nutmeg
2 tablespoons (30 ml) of corn starch
½ cup (120 ml) of water
Preparation
Coffee Cake
Pre-heat the oven to 350°F (180°C).
In a large bowl mix ingredients until you have a smooth and consistent finish.
Pour contents into a greased 9 inch (22 cm) pie tin.
Cook for 25 to 30 minutes until ready.
Let cool and serve with sauce.
Creamy Nutmeg Sauce
Pour sugar, milk and nutmeg into a small saucepan then set heat to medium.
In a small bowl, mix water and cornstarch. Stir until you have a smooth finish.
When the sauce boils, lower temperature to medium-low or low to maintain a light boil.
Add ¼ cup (60 ml) of the cornstarch and water mix then whisk contents vigorously until sauce thickens. Add more cornstarch and water if necessary.
When the sauce is thick, pour over a slice of coffee cake and serve!

Coffee Cake with a Creamy Nutmeg Sauce by Evelyn Chartres is licensed under a Creative Commons Attribution-ShareAlike 4.0 International License.