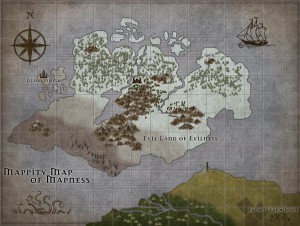 Authors often create worlds, while some are more drastic than others; the fact remains that it's difficult keeping a clear image in our minds.  When reading through the
Lord of the Rings
, I found that the map provided came in handy.  This reference kept locations fresh in my mind while maintaining perspective.
I came across this link on my Google+ feed.  It features a role-playing tool set from Inkarnate, which permits you to create beautiful and detailed maps.  While perhaps not publishing quality, this certainly permits an author to sketch out their world.  This alone would go a long way towards preventing the introduction of inconsistencies into their prose!
This tool would have been invaluable in the early stages of The Grand Project. The review process led me to discover how  the hotel had not always written to be in the same place!