Independent author, C.J. Boyle, is known for her works of science fiction. She has taken us to places beyond the moon and has even fiddled with the space time continuum. Her psychological thriller, Fractured Ben, diverges from her better known works and focuses on the human mind.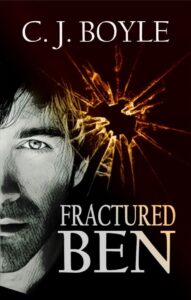 The blurb hints at a man tortured by his past: childhood trauma, the sole survivor of a horrific accident, and suffering from memory gaps. It is not difficult to imagine how introducing a love interest into the fray might just be the right mix of fuel and air to set his world ablaze.
This novel dives into the depths of Ben's mind. The reader will see the dark recesses of his soul, the light of love, and the scars that torment him throughout the story. Throughout this tale, it is best to consider: while the wounds of our battles fade with time, their toll on our souls will forever leave us stained.
This book is geared toward adults. Elements such as domestic violence, childhood trauma, and suicide play prominent parts in the story. Those potentially triggered by such themes would be best to set this book aside. For those brave enough to enter this world, Fractured Ben is well worth a read!