Owl Eyes Motel is a psychological suspense written by independent author Barbara Avon. I've reviewed QWERTY and Timepiece before and found them to be filled with beautiful and impactful prose. Like these past works, this novella delivers!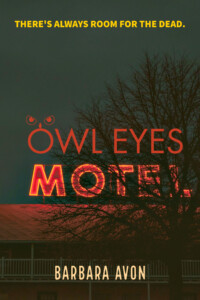 Owl Eyes Motel is a collection of short stories that revolve around a motel for the dearly departed. A mysterious place found off exit 666, where new arrivals are assailed by never-ending torrential rain. 
The scene and atmosphere are perfect for setting. What brings this book to life are the characters. You catch only a glimpse of them as they arrive at the motel and are left to guess how they go there.
The guests are varied, as are their sins. You'll be left to ask yourself what brought him there. However, what you should ask is what fate will befall them…
In the mood for a hard-hitting read that'll leave you stunned? Owl Eyes Motel will not disappoint!