A Girl Called Ari by independent author P.J. Sky, is a post-apocalyptic tale of two women thrust together by fate.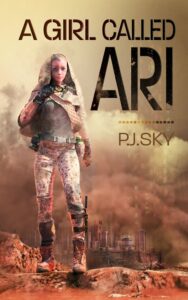 The first is Starla, the daughter of the leader of the last bastion of civilization in the wastes. Lastly, we have Ari, left to fend for herself in the wastes as a child. Two women from radically different backgrounds embark on a journey that is marked by peril and death.
The story is mostly focused on the points of view of Ari and Starla, giving the reader a hint of their pasts along with thoughts that only the individual character knows. This contrast in point of view work well, allowing the story to unfold at a good clip.
This book is a quick read filled with bite sized chapters to snack on. Readers will fall in love with Ari and encounter a satisfying ending that leaves plenty of opportunity to develop the world further.
Coincidentally, Ari Goes to War, the sequel to this tale, is available for preorder.