Conspiracy of the Fallen is a science fiction drama written by independent author C.J. Boyle. The author focuses on a period of exodus, as humanity escapes war and a dying Earth.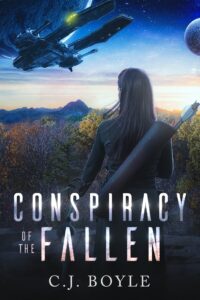 This story follows a young woman, marooned all her life on an uncharted planet. Suffering from a heart condition, her prayers are answered when a spaceship comes crashing down.
Against all odds, she escapes the planet with the sole survivor of the crash and finds herself on a ship travelling between the stars. While they repaired her heart, she finds herself accused of murder and thrust into a society she knows nothing about.
C.J. Boyle provides the reader a glimpse into a world filled with personal growth, intrigue, and highlights both the best and the worst of what humanity has to offer.
Conspiracy of the Fallen is a quick read that offers a satisfying conclusion, leaving all the characters in play for a sequel. Well worth your time!