Dead Heads is a post mortal urban fantasy written by independent author Ross Young. As the title implies, this book delves into a subject that few dwell upon, even if people are dying to find out how it turns out.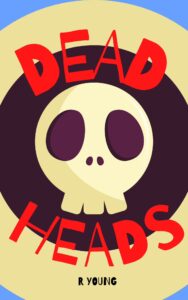 Written in third-person perspective, Ross Young sets the story in the ethereal reality of Gloomwood, conveniently next to the deadport. This is the home to the Grim Reaper, an individual who inconveniently died as the concept of death came into existence, but no one prophesied what came next.
The premise begins with the Reaper's head being stolen and the unimaginably dysfunctional bureaucracy supporting Gloomwood is incapable of handling such a delicate matter. In a rare flash of insight, they expedite a new arrival, who they then task to solve this case and others.
Dead Heads is a quick read that delves into a truly imaginative world. The humour, while macabre, is something you would find within the pages or the Hitchhiker's Guide to the Galaxy. This standalone story offers a satisfying conclusion, and sets the stage for a sequel, Get Ted Dead, available now.