Uncovered is a dark fantasy novel written by independent author Luna Fiore. This is the second book in the Underhill Saga, which is centred on a magical realm that borders our own.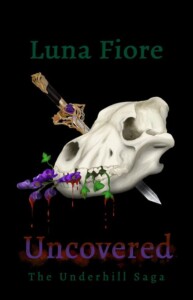 The events of Uncovered take place near the end of its predecessor, Unbound. However, Fiore focuses on a new protagonist Makenna, a fire witch that was encountered earlier as Alannah struggled to break away from her cursed existence.
While this may disappoint some readers, it opens up the world to those inhabiting Underhill itself. Characters from its progenitor also make an appearance, giving this work a familiar vibe, even as we look past the shiny veneer of legends to expose a dark truth.
Uncovered is a sequel that breaks away from its Unbound and contributes to the lore of this rich realm. This novel shines a light on the shadowy elements of this world's past and rewards repeat readers with a satisfying conclusion with the promise of much more. Highly recommended!