Echoes of Blood is a grimdark tale written by independent author Halo Scot. This story, part of the Rift Cycle series, follows the events of Edge of the Breach.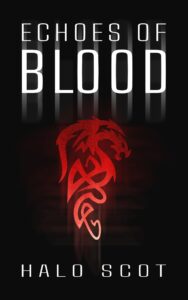 Like its predecessor, this first-person work follows two characters. A young man and woman who navigate through the obstacles of a post-apocalyptic Earth. Opposites of one another, their actions shape events of two major factions, locked in a war against gods.
Their interactions define this book, how their isolation and proximity shape them. The juxtaposition brought forth in the novel is particularly well-done and poignant. It reveals how interconnected the characters are, even if they refuse to see it.
The storyline richly rewards readers. The story develops not only the characters, but the realms and conflict itself. Despite a huge geopolitical shift, it will leave you wondering if humanity is up to the challenge.
Echoes of Blood is a fast-paced, action-packed story that is sure to leave you guessing. This book is followed by, Eye of the Brave, available now. Highly recommended!