Elegy of the Void is the fourth book by independent author Halo Scot. This grimdark tale kicks off after the events of Eye of the Brave and marks the end of the Rift Cycle series.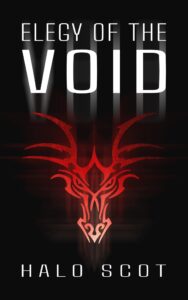 For those of you who went from book to book without pause, you'll find there is little time to breathe in between scenes. The battle against the immortal gods plays out as expected and we learn what happened in that last scene.
The switch in point of view between the two leading characters falls to the wayside. We see the world predominantly through Kyder's eyes, his truth, and how he plans to reset the balance and save Rune's people.
Elegy of the Void is a quick read that leaves you guessing to the end. As always, Scot is the mistress of misdirection and literary sleight of hand. Readers will be richly rewarded with a story that closes all loose ends nicely, and answers some questions we never knew to ask.