Get Ted Dead is a post-mortal urban fantasy written by independent author Ross Young. This is the second book in the Gloomwood series and starts off a few months after Dead Heads ends.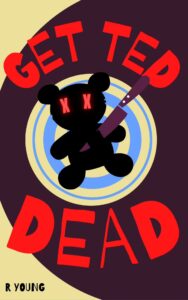 All the old characters are back in play. Time has not stood still in Gloomwood, attracting the attention of outside forces. For those of you familiar with the Beezy and Grim comics, you may guess who's the lead instigator.
Like its predecessor, this novel covers multiple points of view. This story is more complex and nuanced, offering a fresh perspective on a dead world. Readers are rewarded with hints of other afterlives, more about the reapers, and what's the deal with that teddy bear.
Get Ted Dead is a quick read that maintains the comedic standard of its predecessor. Fans of the original story will get a kick of seeing the world they knew get turned upside down.
Thirsty for more? Dead Festive is out now!