Heir to the Sun is a fantasy written by independent author Karen Lykkebo. The story starts off with a young woman leaving behind an abusive relationship to start life anew in an isolated town.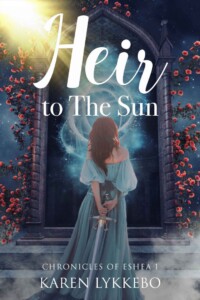 In terms of characters, Aura has had a rough life. Her parents are dead, she suffers from skull splitting headaches, has nightmares about a fiery car crash, and was lost by the system as a child. A shiny beacon of light in her life are stories that an aunt would tell her, ones so wild that she dismissed them as fairy tales.
The story steers towards the fantastical when her boyfriend returns. After a near fatal escape, she ends up in the very world she thought to be fictional. With the world teetering on the brink of oblivion, Aura must drive headfirst into her new reality.
Lykkebo weaves a tale that evokes the nostalgia of the fairy tales of old, but with a modern take. While Aura is no damsel in distress, she feels entirely human and believable. Ultimately, this quick read has a satisfying ending and will leave you yearning for more!