Sarisart is a science fiction story by independent author C.J. Boyle. It introduces us to Sara Newman, a woman consumed by a dream to establish a colony on the moon. Her entire life to this point had been spent furthering that goal, even if that meant getting away from her controlling father.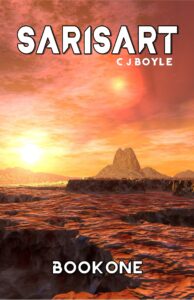 Her plans are placed on hold when a foiled kidnapping sends her and a group of male mercenaries to an alien planet. That's when this story takes on a decidedly darker feel, reminiscent of Lord of the Flies by William Golding.
This tale of survival quickly devolves as their chances for survival dwindle. Sara is forced to adapt to an ever changing situation and environment. Faced with the prospect of never returning home, she stands tall, overcomes adversity, and even risks death for the good of the group.
Sarisart is a fast paced story that keeps your eyes firmly fixed on the page. While part of a series, this book stands alone and delivers a satisfying ending that you will not see coming.