An iconic city in ruins, a man with no past, entities from out of humanity's nightmares… Do I have your attention?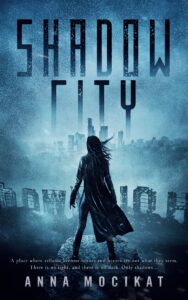 Shadow City is a post-apocalyptic science fiction novel written by indie author Anna Mocikat. This tale features a rich cast of characters in a world filled with detail and nuance. Told from multiple points of view, the reader will soon realise that even in a world this dark, there is still plenty of grey to go around.
It begins with a man with no past who is saved by two scavengers. Readers are quickly introduced to a dystopian society held together by an uneasy alliance facing an enemy only known as the Dark Ones. The characters' fates are complex and intertwined, leaving the reader guessing as to what will happen until the very end.
If you are looking for a unique take on the struggle of good versus evil, this book is for you. You will be rewarded with a satisfying ending that will have you yearning for more. Fortunately, the sequel, Dark City, is already available! So, what are you waiting for?