Ten Sigma is a military science fiction novel written by indie author A.W. Wang. The story follows a terminally ill woman who signs what's left of her life away to a secret government program that exists within a virtual world.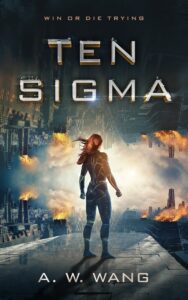 She wakes up in a new environment and with a new body, unprepared for what they expect of her. The story focuses on the character's development in the Ten Sigma program, starting a loss of identity and humanity to forward the government's goal of creating the perfect warrior.
The book evokes thoughts of Harsh Realm (Series), Forever War (Novel) and Unreal Tournament (Game). While there are numerous combat scenarios, A.W. Wang does an excellent job of varying the challenges to keep the prose fresh.
The story is very much character driven. Conflicts are many and often clouded in the mysteries of the virtual world. It all comes to light in the end, revealing a virtual world far more chaotic and nuanced than originally gleamed.
Ten Sigma is a solid read filled with rich detail, believable characters, and a compelling story. I found it hard to put the book down!
This quick read offers a satisfying ending to the virtual realm, and leaves it wide open for what happens in the great beyond. Curious? Check out Ten Sigma: Renegade.