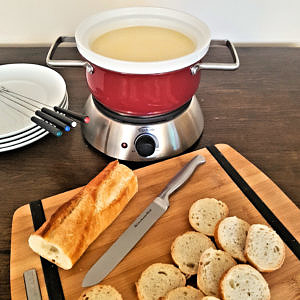 For a fondue, cheese is one of the better known variants. White wine and cheese slowly melted into a thick dipping sauce. I prefer to use a french baguette to dip, since the hard crust will give you a surface for the forks to bite into.
Be careful not to let the cheese come to a boil, that will cause it to curdle. If your fondue is too thick add some wine. Alternatively add more cheese or cornstarch to thicken the fondue.
Ingredients
1½ cups (355 ml) of dry white wine
¾ pound (350 ml) of shredded old cheddar cheese
¼ pound (115 ml) of shredded mozzarella
¼ pound (115 ml) of shredded havarti
2 cloves (10-15 g) of garlic minced
1 teaspoon (5 ml) of nutmeg
¼ teaspoon (1.25 ml) of pepper
2 tablespoons (30 ml) of cornstarch
¼ cup (60 ml) of cognac (optional)
1 French bread baguette
Instructions
Cut the baguette into ¼ inch (0.6 cm) slices and set aside.
In a heavy pot add wine, cheese and garlic. Mix and melt contents under low to medium-low heat, careful to never bring cheese to a boil.
Stir occasionally, until you have a consistent finish.
Add nutmeg, pepper and cognac, continue to stir. Add cornstarch as necessary to thicken the sauce.
When ready, transfer to the fondue pot, maintain heat and serve.

Fondue au Fromage by Evelyn Chartres is licensed under a Creative Commons Attribution-ShareAlike 4.0 International License.