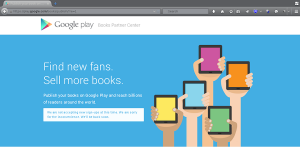 In May of 2015, Google Play Books shut down new registrations to its Partner program. Today, the site still issues out the same notice with no explanation as to the length or reason for the closure.
"We are not accepting new sign-ups at this time. We are sorry for the inconvenience. We'll be back soon."
One is bound to question the concept of soon or temporary when we learn how long it has been. However, bothers me is there there seems to be no official explanation from Google on the matter.
In fact, Google's FAQ for Google Books still says it's possible and makes no reference to a temporary outage. Here is an excerpt:
"Absolutely. If you're self-published or the rights to your book have reverted back to you, you can join the program yourself. Just sign up here. Note that your books must have ISBNs in order to be included."
The linked article to supposes the temporary ban on new accounts was related to rampant piracy. While I am all for making sure that royalties make it the right people, I would love to get an idea on the timeline and the way ahead!