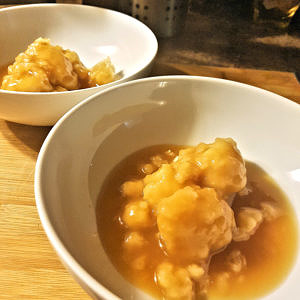 A French-Canadian cake-based dessert cooked in a maple syrup sauce. This dish is especially popular during the maple syrup harvest and is readily available at any Sugar Shack. Quick and easy to make this dish brings the sweet and distinct flavour of maple to one's palate. Delicious!
Ingredients
Syrup
1 cup (235 ml) of water
1 cup (235 ml) of maple syrup
Batter
1 cup (235 ml) of all-purpose flour
2 teaspoons (10 ml) of baking powder
2 teaspoons (10 ml) of brown sugar
½ teaspoon (2.5 ml) of salt
½ cup (120 ml) of milk
¼ cup (60 ml) of melted shortening
Instructions
In a bowl, mix all ingredients for the batter until you have a consistent finish. Batter should be able to slide from a spoon, so you may need to add some milk.
In a pot pour water and maple syrup. Bring to a boil.
Drop batter by the spoonful into the sauce. Cover and simmer for 15-20 minutes.
Remove from heat, ready-to-serve.

Grands-Pères à L'Érable by Evelyn Chartres is licensed under a Creative Commons Attribution-ShareAlike 4.0 International License.